The Cello World IPO starts today and will end on November 1. Before it even began, the IPO already got ₹567 crore from anchor investors. Cello World mainly works in stationery, furniture, and housewares.
Considering Cello World IPO Investment? What You Need to Know. The Cello World IPO is available for people to buy shares starting today, Monday, October 30. They have until Wednesday, November 1 to do so. Even before it officially opened, the IPO got ₹567 crore from special anchor investors on Friday, October 27.
Cello World focuses on three main areas: stationery and writing tools, molded furniture and household items for consumers along with related products.
Cello was started by Ghisulal Dhanraj Rathod, who was the previous owner. The father of the two current owners, Pradeep Ghisulal Rathod and Pankaj Ghisulal Rathod.
The Cello World IPO has a floor price that's 123.40 times the basic value of the shares and a cap price that's 129.60 times the basic value. The price-to-earnings ratio based on the company's earnings for 2023 is 46.85 times at the floor price and 49.20 times at the cap price.
Here are some other companies similar to Cello World, along with their price-to-earnings (P/E) ratios:
Borosil Ltd: P/E of 50.59
Kokuyo Camlin Ltd: P/E of 57.97
La Opala RG Ltd: P/E of 40.81
Stove Kraft Ltd: P/E of 51.49
TTK Prestige Ltd: P/E of 43.78
Linc Ltd: P/E of 33.39
Hawkins Cookers Ltd: P/E of 40.23
In the fiscal year 2023, the total earnings from business activities went up by around 32%, reaching ₹1,796.69 crore. At the same time, the net profit also grew by 29.86% to ₹285 crore.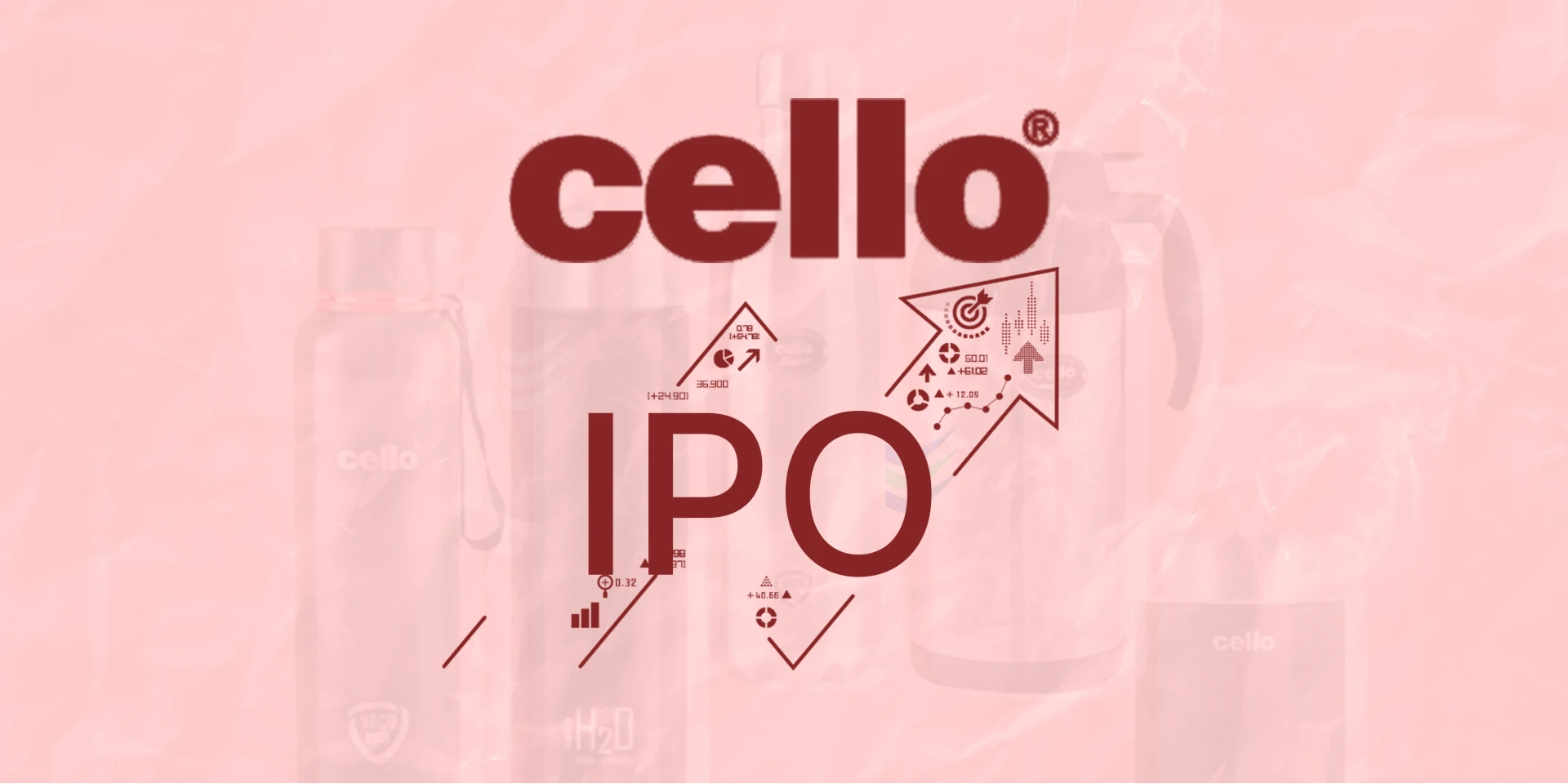 The Cello World IPO's status after the first day of subscriptions.
As of 11:25 AM (IST), the Cello World IPO has been subscribed by 5% on the first day. Among the different investor groups. The retail investors have subscribed to 8%, non-institutional investors (NII) to 6%. The portion reserved for Qualified Institutional Buyers (QIB) has not been subscribed yet.
Price range – The Cello World IPO's price band is set between ₹617 and ₹648 for each equity share. Which has a face value of ₹5.
Lot size – The lot size is 23 equity shares. Investors can buy additional shares in multiples of 23.
The Cello World IPO's allocation or set-aside shares.
In the Cello World IPO, they reserve up to 50% of the shares for Qualified Institutional Buyers (QIB). Non-Institutional Investors (NII) are allocated at least 15%, and Retail Investors are allotted a minimum of 35%.
Additionally, eligible employees participating in the employee reserve portion can get a discount of ₹61 per equity share.
Here are the basic facts about the Cello World IPO.
This is entirely an offer for sale (OFS) meaning that the company's promoters. Other shareholders will sell shares with a face value of ₹5 totaling ₹1,900 crore. The offer also sets aside up to ₹10 crore for eligible employees to subscribe.
In this offering, Pradeep Ghisulal Rathod, one of the promoters will sell ₹300 crore worth of shares. While Pankaj Ghisulal Rathod will sell ₹736 crore, Gaurav Pradeep Rathod ₹464 crore. Sangeeta Pradeep Rathod ₹200 crore and both Babita Pankaj Rathod and Ruchi Gaurav Rathod will sell ₹100 crore each.
1. Listing Date
Cello World IPO will tentatively finalize the basis of share allotment on Monday, November 6. The company will initiate refunds on Tuesday, November 7. The shares will be credited to the demat account of allottees on Wednesday, November 8.
The company is likely to list its shares on BSE and NSE on Thursday, November 9. If the company decides to switch to the T+3 norm, the dates will be rescheduled.
2. Cello World IPO lead manager and registrar.
Kotak Mahindra, ICICI Securities, IIFL Securities, JM Financial, and Motilal Oswal manage Cello World Limited's IPO. The company responsible for managing records and registrations is Link Intime India Private Ltd.
3. Cello World IPO risks
According to the company's RHP. The major risks are related to fluctuations in the costs of raw materials like plastic granules and polymers. As well as potential disruptions in their supply. Which could harm the company's operations, finances, business, and cash flow.
Additionally, the company's ability to sell and distribute its products relies on its distribution network both in India and abroad. Any disruptions to this network could negatively affect the company's operations, finances, cash flow, and business results.
4. Today's GMP (Grey Market Premium) for the Cello World IPO.
The GMP (Grey Market Premium) for the Cello World IPO today is +120. This means that Cello World shares are trading at a premium of ₹120 in the unofficial market. As reported by investorgain.com.
Based on the top end of the IPO price range and the current premium in the grey market. It suggests that the estimated listing price for Cello World shares could be ₹768 per share. This is 18.52% higher than the IPO price of ₹648.
The 'grey market premium' reflects the willingness of investors to pay more than the official issue price for the shares.
A simple review of the Cello World IPO.
According to Choice Equity Broking, the Cello World IPO requests a TTM P/E multiple (Price-to-Earnings ratio based on Trailing Twelve Months) of 48.8x at the higher price range. This is much higher than its TTM earnings per share, which is Rs.13.3. It surpasses similar companies in the Stock Market, with a peer average of 38.6x, making it overvalued, priced higher compared to its earnings.